Title: Mega-Storm X
Genre: Racing
Age rating: 15+ (Mild language, violence)
Platforms: PlayStation 3
Modes: Single player, multiplayer (4), online (12)
Mega-Storm X is the first Sonic snow-mobile racing game. Developed by an anonymous producer, it has not yet been published. Many features will be included in the final game, such as great physics that still manage to stick to the arcade style of racing, incredible speed, highly dangerous races and game modes, a blistering 95 frames per second (replays playing back at 50 frames per second), up to 20 tracks, more than 20 characters, downloadable content, a large varied soundtrack and more.
____________________________________________________________________________________________________________________________
Career
Mega-Storm X will feature a career mode for each character, posing different challenges for everyone and unique storylines. For each level complete, players will be able to add modifications and upgrade their character's abilities, sleds, etc. In some races they will be put through different scenarios of races, ranging from 1 v 1 boss races to having to simply survive a race.
Arcade
Arcade mode will feature a large variety of circuit and arena game modes. These are some of a few:
Single Race (1-12 racers): [Circuit] A simple circuit race. In arcade mode, you are allowed to decide how many laps there are (maximum of 20); how many opponents there are; who the opponents are; whether weapons are allowed or not; how much damage and what types of weapons are available (all, ranged only, melee only, none), and finally – who you want to race as. Do note that each character can only use their sled. Once you are knocked off of your sled, you will re-spawn on the main track in the equivalent place/area you wiped out in, even if you took a shortcut. One some occasions, environmental hazards can occur, and some can even be made by players depending on which character they have for the specific hazard. (Note: If one player, then you have the option to choose between time trial, practice or checkpoint. Checkpoint is explained in detail lower down.)
Hardcore race (2-12 racers): [Circuit] The same as a single race with the same options, but the competition is far deadlier. Weapons can now eliminate you, and once you're out, you're gone for good. You have a health bar showing how much damage your racer will be able to take before they bite the snow.
Downhill Drag (2-6 racers): [Circuit] Players start on top of a hill,sled all the way down to the finish and collect points on the way.You have a rival that competes to get more points than you so watch out! obstacles like trees and rocks will have you take damage or taken out when too careless. Melee weapons are limitless but ranged weapons are precious but scarce.Ramps allow you to jump,allowing you to make stunts that not only give points...they also give a bonus score multiplier when you complete a set of stunts.These aren't compulsory but completing it gives an unfair advantage. (Note: This isn't an arena mode, so that's why it says circuit.)
Team race (4-12 racers): [Circuit] This time you can go with a partner, a trio, a group of four or even be a six-man/woman squad. You will be able to choose how many teams there are (ranging from 1 to 6, but this will change what teams are allowed) and who are in the teams, along with the rest of available changes you can make in single race.
Checkpoint (1 racer): [Circuit] Players will have to go through a series of checkpoints before time runs out. You have the option to choose between the starting time limit (10 secs – 30 secs) time added per checkpoint (5 secs – 10 secs) and how many checkpoints there are (10-50).
Free-for-all deathmatch (2-12 racers): [Arena] This takes place in an arena. You will be able to decide how many rounds there are (1 min., 4 max.), how many opponents there are, who the opponents are and what weapons are available (All, ranged only, melee only) Each player will start off in one of 12 starting areas, selected before the race or put as random, with pickups lying around to either enhance the player's armour, weapons or health. There will be a couple of environmental hazards added, too. To score points, you must take out your opponents or perform specific skills, but you can also lose points if you are too clumsy. The list on how to score points:
-
"Good one…"
: Go out of the arena or fully deplete your health gauge by yourself or from an environmental hazard (-1 point)
-
"Takedown"
: Take out an opponent (2 points)
-
"You're outta there!"
: Bump/hit another player out of the arena (2 points)
-
"Dodge 'ems"
: Avoid an attack that either causes another player to get hit (3 points)
-
"Ground control to major Tom"
: Take out an airborne opponent (3 points)
-
"Double trouble"
: Perform an attack on the target with another player hitting the same target (3 points)
-
"Flying menace"
: Take out an opponent whilst in the air (4 points)
-
"Dogfight"
: Take out another airborne opponent whilst in the air (5 points)
-
"Double kill"
: Take out two opponents at once (5 points)
-
"Triple kill"
: Take out three opponents at once (8 points)
-
"Hit me, baby"
: Go through a round without getting taken out more than three times (10 points)
-
"Weapons of mass destruction"
: Take out any opponents with every weapon at least once in a round (12 points)
-
"Hard as nails… or just a big sissy"
: Go through a round without getting taken out (15 points)
-
"Like a boss"
: Take more than 1000 points of damage in a round without getting taken out (20 points)
-
"Trauma Llama"
: Take out every opponent at least three times in a round (20 points)
-
"Jesus"
: Go through an entire round without taking any damage (25 points)
-
"Indestructible"
: Go through all rounds in a game without getting taken out (50 points)
The player with the highest amount of total points at the end of the game wins. If two players are tied, it will go to sudden death, meaning that there will only be a 15-second-limit, weapons will do up to three times more damage and once a player is taken out they lose the sudden death. The list of pickups are as follows:
Melee
- Baseball bat: 20 hits / 9 damage (180 total) – 26% chance
- Crowbar: 16 hits / 11 damage (176 total) – 25% chance
- Golf club: 12 hits / 16 damage (192 total) – 18% chance
- Pipe: 18 hits / 7 damage (126 total) – 30% chance
- Stage light: 11 hits / 18 damage (198 damage) – 17% chance
Ranged
- Baseball: 3 uses/shots / 8 damage (24 total) – 15% chance (note: Can be combined with baseball bat to produce 3 shots / 25 total (75 total))
- BB pistol: 10 shots / 6 damage (60 total) – 20% chance
- BB rifle: 7 shots / 10 damage (70 total) – 17% chance
- Metal Frisbee: 4 shots / 15 (60 total) – 19% chance
Hardcore deathmatch (12 racers): [Arena] Same as free-for-all, apart from it uses the same laws as hardcore race – Once you're out, you're out until the time is up or you or someone else is the last man standing , and you will have to wait next round to get back into the action. The weapons will be about 10% more powerful too, but there will be slightly more health pickups lying around. There are a couple of unique ways to score points in hardcore deathmatch:
-
"And then there was one…"
: Survive a round and be the last man standing (15 points)
-
"The King"
: Go through all rounds in a game without getting taken out (75 points)
Sleds
Each sled will be different with each character, and will have four attributes: Speed, Acceleration, Handling and Boost. There will be the option to customise the look of your ride, varying from lights, body kits, caterpillar wheels, seats, skis and exhausts. The sleds will also be split into levels each time they have three upgrades, going from 1, being slow and for beginners, to 10, being outrageously fast and will require great reactions.
- Lights: Line of sight will be increased along with weapon range increasing
- Body kits: Speed will be slightly increased (Excluding arena mode, sleds will also take less damage)
- Caterpillar wheels: Acceleration and handling will be increased
- Seats: Performing tricks will earn you slightly more points
- Skis: Handling and top speed will be increased
- Exhausts: Acceleration will be increased greatly
Weapons
Each character will have their own ranged and melee weapons which can also be upgraded. Ranged weapons will have three attributes: Accuracy, damage and range. Melee weapons will have two attributes: Damage and speed (speed will affect how quickly they can perform the attack). In arena matches, however, players will have to pick up ranged and melee weapons (excluding prep deathmatch). All weapons will also be able to be modified, but this depends on the weapon type.
Stunts/tricks/skills
Some characters will be able to perform more tricks than others, whilst some will be able to break more items and objects. Along with this, smashing objects and performing tricks will fill up the "Storm" gauge. Once the gauge is full, this will be called a "Mega Storm", which will allow to go up to 20%, 30% or 40% faster than a regular "Storm" boost depending on which character you choose.
Characters
Mega-Storm X features more than 20 unique characters, all with their own unique vehicles, new gear, weapons and tactics. As downloadable content, 6 veteran Sonic characters will appear. Some of the characters are as follows (Uncomplete):
- Aidan
- Alex
- Alouette
- Amy (DLC)
- Atika
- Baltor
- Blaze (DLC)
- Brego
- Ciel
- Dante
- Dream
- Elisa
- Ferham
- Heather
- Hyndrer
- Jan
- Knuckles (DLC)
- Leviti
- Miyo
- Ney
- One
- Peter
- Ramsten
- Scizo
- Shadow (DLC)
- Sola
- Sonic (DLC)
- Synthia
- Tails (DLC)
- Tealis
- Tony
- Veizi
- Zero
There will also be three newcomers:
Eiso
, a male hedgehog that specialises in acceleration and has a rather energetic attitude,
Yattai
, a female rabbit that specialises in handling and has a bubbly personality, and
Tyker
, an unspecified male who specialises in melee weapons and is a complete psycho. Tyker will be another unlockable character.
Soundtrack
Mega-Storm X boasts a large variety of adrenalin-fueling songs, along with there being the option to play your own music. The list includes song from the likings of Disturbed, Deadmau5, Muse, Pendulum, Slipknot and Metallica:
-
Blood On Our Hands (Death From Above 1979)
-
Timewarp (Sub Focus)
-
Automatic (Powerman 5000)
-
Drop The Bombshell (Powerman 5000)
-
Stompbox (The Qemists)
-
Straight Ahead (The Exploders)
-
The Heretic Anthem (Slipknot)
-
Supermassive Black Hole (Muse)
-
Smack My Bitch Up (Prodigy)
-
Invaders Must Die (Prodigy)
-
For Whom The Bell Tolls (Metallica)
-
Of Wolf And Man (Metallica)
-
Set To Fail (Lamb of God)
-
Superbeast (Rob Zombie)
-
Feuer Frei (Rammstein)
-
Breaking The Habit (Linkin Park)
-
The Island Part II (Pendulum)
-
Slam (Pendulum)
-
Tornado of Souls (Megadeth)
- [url=https://www.youtube.com/watch?v=gDndZn0YPdI]Sofi needs a ladder (Deadmau5)
-
Zombie Dance (Herve)
-
Knobbers (Crookers)
-
Russian Roulette (KISS)
-
Almost Easy (Avenged Sevenfold)
-
Spoilin' for a fight (AC/DC)
-
Sabotage (Cancer Bats)
-
New Tatoo (Saving Abel)
-
This Is The New Shit (Marilyn Manson)
-
The Fight Song (Marilyn Manson)
-
Davidian (Machine Head)
-
Monster (Skillet)
-
The Game (Disturbed)
-
Fuck The System (System of a Down)
-
Rollin' (Limp Bizkit)
-
Raining Blood (Slayer)
-
Twist Up (The Body Snatchers)
-
Rocket Skates (Deftones)
-
Dissapear (Bullet for My Valentine)
-
Creator (Santogold)
-
BEER!!! (Psychostick)
-
Bonkers / Mega-Storm X remix (Dizzee Rascal
-
Scatta (Skrillex)
-
Ignition (Spor)
All songs will be available on menus, races and arena modes.
(Can't really confirm it's complete.)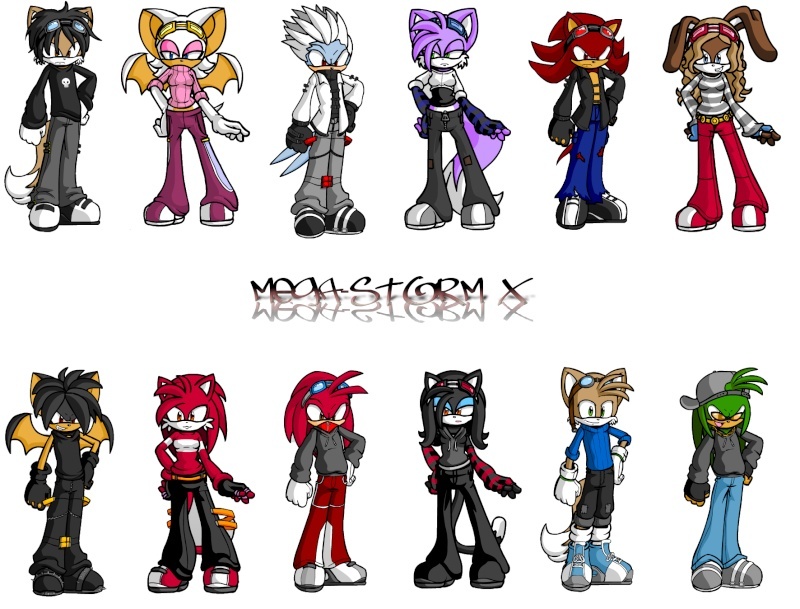 Note: I'm trying to make it so the URL to Sofi Needs A Ladder isn't there, but it just keeps popping up. I have no idea why.