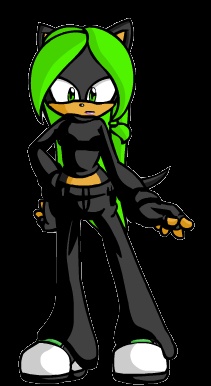 (She was originally supposed to be a Lynx, but I decided not to have her as a specific animal type.)
Nemi is a cyborg, originally created by Krater (before he resigned from control of the Dark Army) for the experimental computer LIP-C, made by the Dark Army. However, through some tests and experiments, her power output always seemed to change every time - some days she produced huge amounts of energy, and some days she couldn't even produce enough energy to light up a light bulb. Gabe saw that she had some major flaws and that she was unreliable, so one day he took her to one of their many nuclear factories and tried throwing her into one of the generators, but it went horribly wrong. She managed to completely destroy the entire factory.
She's a very timid and shy person, and doesn't always like being around others unless it's absolutely necessary. She thinks she is a freak, and is sometimes worried about talking to others, mainly because of the incident she had with Gabe at the nuclear factory. Nemi's still trying to find a way to shut down her own body (pretty much kill herself), but she just wishes she was a normal living Mobian a lot of the time.
(This will probably be my final female character I'll make. I've got one or two more males coming up for an RP on another website, but you may or may not see those two.)