(Yeah hi I'm posting a lot more on here, huh.)
... Yeah, this is actually supposed to be the legit set of villains for the next Sonic game.
...
Well...
... Your opinions?
To me, the green thing looks too much like an actual duck. If they were going for appealing to all to the duckfaces of the internet, they nailed it... Yup. The blue guy looks like his only attack would be to cut himself or whatever and make Sonic utterly depressed (and therefore have no need for speed, that's no good). The red guy does look kinda cool apart from the eyes, but they'll probably fuck up his entire fight or whatever. The blue/black head... thing, looks completely stupid and I swear that he's got some kind of Chinese mustache thing going on there so he probably just whips you with his tache. That PINK guy looks like a cracked-up gimp freak... but that orange guy. My god, that orange guy.
Why, just WHY, would anyone think it would be sensible, for a kids villain (let alone an actual villain) to have something like that as a "bad guy"? Sure, if he is supposed to be that incredibly stupid goon or sidekick which contributes absolutely no help in any way to the other villain(s) aside from making them want to punch his thick-headed skull through, fine, but I really hope it DOESN'T turn out that way.
I mean, just...
LOOK AT HIM. I really can't tell if he's actually TRYING to be angry or not. If he really is, that isn't a good start, SEGA.
I mean, what happened to the old Sonic villains?
(
Excluding Robotnik because we all know he was just a massive puffball for punishment.
)
What happened to the old Mecha Sonic?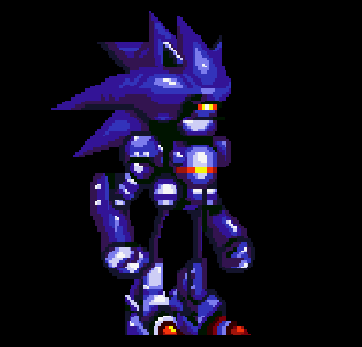 When I first saw him in the game I was literally shitting myself. Even if he wasn't that hard a boss, he was still pretty freaking intimidating, especially as a kid.
They used to have some pretty decent bosses back then. There was one level where you had to race Metal Sonic throughout a course, and not only was that really fun but it kept you on edge because you knew you needed to beat him otherwise... well I don't think anyone lost to it so I have no idea what would have happened.
But you guys know me. I'll just end up saying "They need to throw in a really scary and dangerous boss for Sonic to confront". ... Not really. Just a bigger, badder and better Metal/Mecha Sonic, that's all I could ask for. They did a Metal Knuckles, look how that turned out. Heck, they could do a Mecha Shadow, that'd probably be even more intimidating. They just need to put a bit more "power" into their bosses.
No, don't have
Eggman
Robotnik make some machine (unless it is actually difficult and challenging), make his IQ of 300 actually seem credible for once. Build an enemy that Sonic has to continuously confront at specific stages of the game, who constantly learns and develops his fighting plan. Wouldn't that be more fun? More fun that just fighting a boss which will probably only take about 3 hints and may be enjoyable but you only get to fight them ONCE?
Eugh... I really hope these are interesting villains. If not, well... Sonic's always been going down hill since it went 3D. The least it can do is get worse.
And I literally just read this just after I posted.
"Dr. Eggman has harnessed the power of six menacing creatures collectively known as the Deadly Six, but when the Deadly Six rise up against their master, Sonic has to unite with his arch nemesis in order to take on the new enemies head-on."
...
I'm losing faith.