His name is
Ramsten
, but that was the name he made himself after mixing the names 'Rammstein' and 'Ramos' together... so his real name would be Ramos.
He's a rocker - armed with a
freaking supersonic guitar
he can strum loud notes that blast the enemy away or into pieces... higher notes can cause their heads to explode.
He spends his time listening to his iPod, and whatever he has on there. Whatever's playing on there, be it the middle of a very hard guitar solo, he will play it out loud and perfectly. Maybe not someone you'd want to be RIGHT NEXT TO in a fight, but if that fails, then all he has is an army knife he stole.
He's 20 years old... his parents are still living a regular life, but they haven't contacted each other for five years now.
Appearance...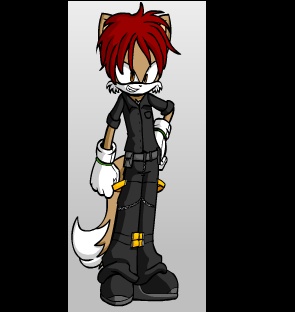 Main inspirations are Brutal Legend, Jack Black, my love for rock music and one of my friends who got me into rock.